Festival 2020
Specials
Hive Rise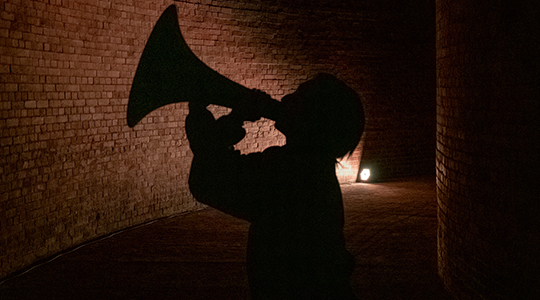 Entering Berghain is like accessing another sphere of perception. With "Hive Rise," Ashley Fure and Lilleth Glimcher dig into this site-specific terrain with a cast of ten performers wielding custom 3D-printed megaphones.
More posthuman perceptual appendage than tool, these curved cones both amplify and directionally focus each vector of sound, sending slivers of white noise and psychoacoustic beats straight to the skin of the crowd. Fure anchors the pulse of the piece by performing live on a kit of subaudible subwoofers she treats like kinetic drumheads. Combined with the force of the Funktion 1 soundsystem, "Hive Rise" fronts a multidimensional cyberfeminist take on the sonic, social, spatial, and participatory prospects of Berghain.
Credits
Created by Ashley Fure and Lilleth Glimcher
Composed by Ashley Fure
Directed by Lilleth Glimcher
Scenography by stock-a-studio
Megaphones by Matter Design
Lights by Kelley Shih
Costumes by UY Studio
Pre-show Sound by Daniela Huerta (hybrid set)

Performed by Ashley Fure, Josie Brinkmann, Yin Cheng-Kokott, Siri Elquivist, Julian Fricker, Camille Käse, Dornika Kazerani, Zwoisy Mears-Clarke, Tatiana Mejía, Assi Pakkanen, Valerie Renay
---
Hive Rise is co-commissioned by CTM Festival and the DAAD Artists-in-Berlin Program.