Festival 2020
Specials
Drops and Seeds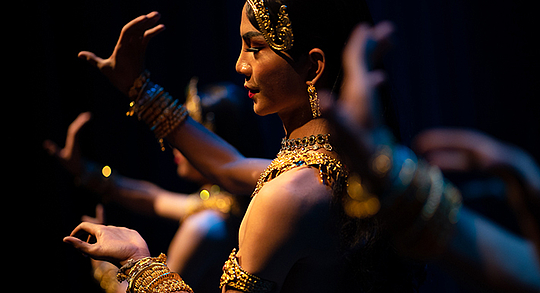 The liminal marks the fundamental challenging of norms and identities. Referencing the brutal Khmer Rouge genocide of the 1970s, "Drops and Seeds" marks the persistence and evolution of Khmer classical dance, which today rests on the shoulders of merely a handful of artists. The project is created by choreographer Prumsodun Ok, founder of Cambodia's first openly gay dance company, NATYARASA; and Berlin-based composer Ana Maria Rodríguez, with light design by Fred Pommerehn and music performed by Ensemble KNM.
Traditional Khmer dance originated over one thousand years ago as a prayer through movement for prosperity. Dancers acted as conduits between heaven and earth, delivering prayer to the gods. Taking its title from a poem by Norwegian lyricist Simen Hagerup, "Drops and Seeds" departs from this notion of dance as a mediator between earth and sky, but sees Prumsodun Ok, the first male student of one of the few surviving dancers of the Khmer style, replacing the traditional female Khmer performer with a queer dance ensemble.
"Drops and Seeds" embodies certain shifts in meaning that result when traditions are put under stress or recalled. The androgynousness of the dancers abstracts and takes the dance out of its usual context, creating space for questions of remembrance and transmission, and considering positions of power in traditional society and cultural forms.
Ok likens the Khmer Rouge genocide with the impact of a meteorite—unforeseen, powerful, and incomprehensible. Radically altering previous life, it leaves a deep crater in its wake. But it rains; a crater becomes a lake and creates new life. Heavenly bodies collide with the earth's surfaces; falling raindrops burst into crocodile tears; latent landmines suddenly explode. For Rodriguez, the hundreds of thousands of dormant landmines continue to resonate today, serving as reminders of the tremendous, sudden force that struck the country. Carefully recreating and recomposing (acoustic) reality, Rodriguez carefully considers local identities of music, sound environments, and geographically shaped musical practices.
Together, the artists guide audiences across fragile, challenging, and shifting terrain, navigating the impossible contradictions between micro and macro, individual and society, as well as personal fate and cosmic pathos.
Prumsodun Ok – Choreography
Ana Maria Rodriguez – Music / Live Electronics
Fred Pommerehn – Stage / Light

NATYARASA
Sory Chan | Chay Khuon | Sopharoth Morn | Chamreoun Soeurn | Sokhon Tes | Ponmonyka Touch – Dance

Ensemble KNM Berlin
Rebecca Lenton, Flutes | Theo Nabicht, Saxophone/Contrabass Clarinet | Horia Dumitrache, Clarinets | Michael Weilacher, Drums | Theodor Flindell, Violin
---
"Drops and Seeds" is a project by Ensemble KNM Berlin, Prumsodun Ok & NATYARASA in cooperation with CTM Festival 2020 and radialsystem. Funded by the Capital Cultural Fund Germany (HKF) and the Goethe-Institut Thailand. Ensemble KNM Berlin is funded by the Senate Department for Culture and Europe.