CTM On Air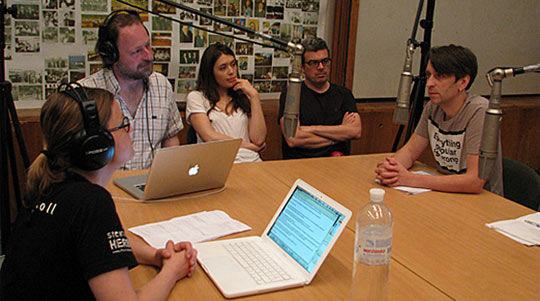 Two radio projects support CTM Festival's ongoing aim to find and present adventurous sound and to explore new perspectives in musical discourse.
CTM Radio is hosted by CTM Festival co-director, Oliver Baurhenn, and is broadcast on Berlin's most advanced community radio, reboot.fm. Following the program's September 2011 debut, featuring sounds from the ICAS festival network's ICAS Suite Berlin mini-festival, nearly 40 subsequent editions have supported CTM Festival's ongoing aim to find and present adventurous sounds and to explore new and emerging perspectives in musical discourse. Joined by longstanding CTM collaborator Meike Jansen from its sixth until the 36th edition, and currently in collaboration with Zuri Maira Daiß, CTM Radio provides a platform for sharing forward-thinking music, ongoing CTM Festival initiatives, discussions and features on current artistic and societal topics, as well as the discussion and presentation of artwork by invited studio guests.
Oliver Baurhenn also co-moderates ICAS Radio, a project of the ICAS – International Cities of Advanced Sound – network, together with Susanna Niedermayr. Through the ICAS Radio roundtable, festival organizers and their contemporaries meet to discuss innovation and critical developments in current music and culture. ICAS Radio has already been broadcast from Berlin, Montevideo (UY), Montreal (CA), Graz (AT), Dresden (DE), Brussels (BE), Kiev (UA), and Tromsø (NO). The ICAS Radio project is produced by the Austrian Broadcasting Service, ORF Ö1, within its Zeit-Ton extended series in cooperation with reboot.fm.
Facts