Festival 2020
Transfer
MusicMakers Hacklab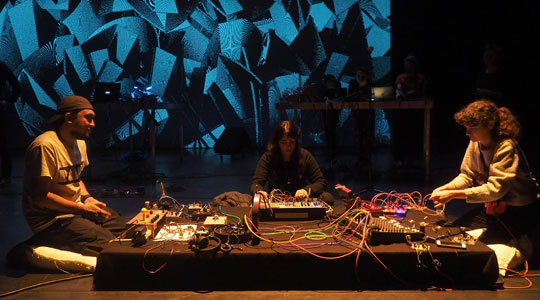 Liminality is the possibility of transformation, ritual unbecoming. This year's hacklab focuses on how performance practice and invention can change the performer—making them someone or something else, making them newly visible, or making them entirely invisible. We challenge our participants to engage in collaborations that remake one another's onstage roles. These might be high tech or low tech, speculative or punk, involving projection, puppetry, prosthetic and makeup, in instruments that reshape our bodies and voices, or in the metamorphic power of sound itself. But as always, those methods will be drawn from learning from and working with one another, and in this year's edition specifically, may challenge us to swap our usual skills and masks with our fellow experimenters.
In the spirit of community, the Hacklab will be open to walk-ins from both hackers and the general public. A series of Hacklab Input talks will also be held within CTM 2020's talk programme, providing inspiration for Hacklab fellows and the public. We'll have a week together to explore and invent, culminating in a live performance at radialsystem on Sunday 2 February.
Facilitators
Tad Ermitaño
Tad Ermitaño is a key figure in new media art in the Philippines and Southeast Asia. His sphere of influence reaches back to the late 1980s, when he co-founded the media collective Children of Cathode Ray, one of the first experimental sound art groups in the Philippines. Considered to be one of the seminal pioneers of sound art in the country as well as an explorer of experimental film, his artistic practice encompasses a remarkable examination of the processes, semiotics, and structures surrounding man's relationship with machines.
Ermitaño's projects often involve the manipulation of aural and visual phenomena so that they interact with spatial structures. He expresses his fascination with sound through different technologies, from digital video (Sex2Speech, 2017) and mechanical instruments (Hasa, 2015), to analogue circuitry (Bell, 2011) and computer programming (Twinning Machine, 2012; Sammy and the Sandworms, 2013). The sensibility displayed in his work reflects an education grounded in philosophy and the sciences rather than art; Ermitano studied Biology at Japan's University of Hiroshima, earned a Bachelor's degree in Philosophy at the University of the Philippines, and trained in film and video at the Mowelfund Film Institute. He has held solo exhibitions at 1335MABINI (PH, 2015) and Pablo Gallery (PH, 2011), and has participated in numerous group shows in Japan, Italy, Singapore, Malaysia, Indonesia, and Hong Kong. He represented the Philippines at the 2006 Ogaki Biennale New Media Festival and in the Main Juried Exhibition of ISEA 2008. In 2016 his work "Gillages" formed part of the Philippine Pavilion's exhibit at the 15th Venice Architecture Biennale.
Peter Kirn
Peter Kirn is an audiovisual artist, technologist, and journalist. He is the editor of CDM (createdigitalmusic.com), and co-creator of the open source MeeBlip hardware synthesizer. His work ranges from teaching creative coding with open tools to making experimental live techno, and as a writer has been a hub of discussion of trends in live and interactive visuals, and the design of new music technologies.


---
Presented with CDM, Nusasonic, and the SHAPE platform, which is co-funded by the Creative Europe programme of the European Union. Funded by the Senate Department of Culture and Europe, and Initiative Musik.
Facts
Details
Runs: Mon 27.01 – Sun 02.02.2020
Venue: radialsystem, Holzmarktstraße 33, 10243 Berlin-Friedrichshain
Times: daily 11 – 18:00
Final Presentation: Sun 02.02.2020 | 16:30
Related Events