Gendertronics
Der Körper in der elektronischen Musik – Book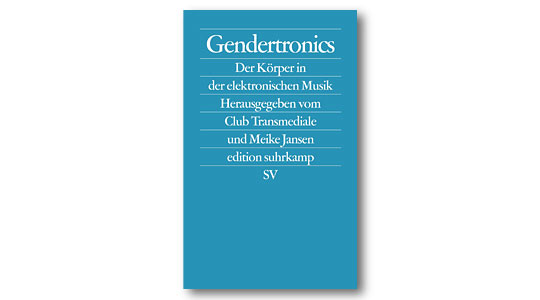 When, in the early 1950s, electronic music appeared on the scene with the promise of abandoning all physical limits of music-making this was – like much besides – a Promethian male fantasy. Indeed, this music subsequently led to everything but disembodiment. From the psychedelic trances of the 60s and Kraftwerk robotics of the 70s, through to Techno ecstasies, gender-political interventions in the 90s and laptop performance – the questions as to how, from whom, to what ends and in which contexts electronics and the human body might be cable-linked have continually had to be addressed anew.
Edited by CTM and Meike Jansen and published by Edition Suhrkamp in 2005, Gendertronics – Der Körper in der Elektronischen Musik is an in-depth study of questions raised by the theme of the 2004 edition of CTM Festival, "Performing Sound". With contributions from Olaf Arndt, Claudia Basrawi, Jochen Bonz & Thomas Meinecke, Mariola Brillowska, Kurt Dahlke, Diedrich Diederichsen, Harald Fricke, Tom Holert, Miss Kittin, Pinky Rose, Birgit Richard, Terre Thaemlitz, Marc Weiser and 17 black and white drawings by Jan Rohlf.
---
Gendertronics – Der Körper in der elektronischen Musik
Edited by CTM Festival and Meike Jansen
edition suhrkamp 2394, 2005
ISBN 3-518-12394-#
200 pages, paperback
---
Content
Meike Jansen und Jan Rohlf
Bodycheck – Vorwort
Miss Kittin
Untitled
Tom Holert
Star-Schnittstelle – Glamour und elektronische Popkultur
Kurt Dahlke
Die Rehabilitierung des Körpers in der elektronischen Musik
Harald Fricke
Klangräume, Körperwelten – Unterwegs mit Karlheinz Stockhausen in den Geräuschkammern der elektronischen Musik
Diedrich Diederichsen
Unheimlichkeit, Pulse, Subjektlosigkeit, Befreiung
Olaf Karnik
Cunningham & Co. – Körperinszenierungen in Elektronikclips
Terre Thaemlitz
(Statement of Purpose) – Zur Wahrnehmung gesellschaftlicher Inhalte in japanischer Elektronischer Musik
Pinky Rose
Reset: Weiblich?
Birgit Richard
DJ-Jane Kicks und Acid Chicks – Musikalische Ekstasen und Formationen der Körper
Jochen Bonz und Thomas Meinecke
Sonic Drag - Sequenzen über die Kulturtechnik des Tracks – Ein Gesprächsmitschnitt
Marc Weiser
tanz/ ritus/ initiation/ paarung/ geschlechtskrankheiten/ ernte/ derwisch/ gruppe/ hingabe/ aufgabe/ selbstverleugnung/ krankheit/ irrationalität/ hoffnung/ zukunft/ schwachsinn
Olaf Arndt
Die Korrektur – Richtschallstrahler, Elektroschocker und andere Methoden zur Begütigung unzufriedener Massen
Claudia Basrawi
Befreiung durchs Weltall – Oswald Wieners Bio-Adapter und die Riten der Selbstauflösung
Mariola Brillowska
Die Babys schreien nach ihr
Jan Rohlf
Indexschwingungen. 16 Zeichnungen.
Facts