CTM Radio Lab
Commissioned Works

Since 2014, the CTM Radio Lab has been dedicated to exploration and experimentation within the medium of radio. Each year, the ongoing project supports two works commissioned by Deutschlandradio Kultur - Hörspiel/Klangkunst and CTM Festival, in collaboration with the Goethe-Institut, ORF musikprotokoll im steirischen herbst, Ö1 Kunstradio, and ICAS – International Cities for Advanced Sound.
The yearly CTM Radio Lab Open Call for works seeks unusual ideas for pairing the specific artistic possibilities of radio with the potentials of live performance or installation, that also explore the concurrent CTM Festival edition's theme. The two yearly selected works premiere at the CTM Festival, and are subsequently broadcast via Deutschlandradio Kultur and the ORF (Austrian National Broadcasting Service).
CTM 2020 Radio Lab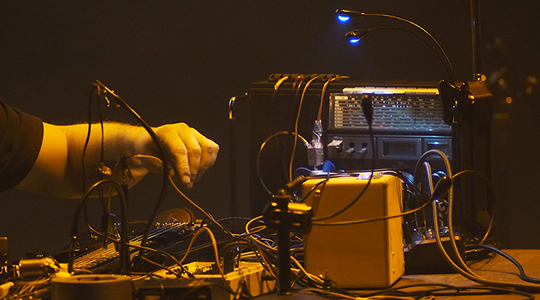 The 2020 edition of the CTM Radio Lab commissioned two works, and an additional KONTINUUM call commissioned a year-long generative audio stream.
With "Altered State Solution," Berlin-based artists Dani Gal and Ghazi Barakat consider noise as "an ambiguous space between the disruptive and the creative, and between the oppressive and the subversive." The piece departed from the idea of radio jamming, which blocks unwanted transmissions from neighbouring countries or oppositional sources. During the Cold War, citizens behind the Iron Curtain tried to overcome jamming noise by listening through it, while the Soviet authorities further developed their jamming methods to create an iron curtain in the "Aether" space. Against this backdrop, Gal and Barakat transmitted sound messages to each other, each creating a noise space that becomes their "region of influence."
The duo NUM, consisting of Maryam Sirvan and Milad Bagheri, created "Nothingness, Life, Nothingness," a three-part suite corresponding to the three stages of time: past, present, and future. Drawing on questions about constant change and the incessant motion of life, the duo reflected on their own history as a couple without formal music training who, because of their shared passion for music, left their native Iran to try out a new life in Tbilisi. The past enabled them to examine one's place between two infinities—the present and the future.
Thomas Wagensommerer's "~NOWWWWWWWWWWWWWWWWWWWWWWWW~" is the 2020 winner of the CTM Radio Lab's new commission, KONTINUUM. A new component to the Radio Lab, the KONTINUUM call by Deutschlandfunk Kultur, CTM Festival, and ORF Austrian Broadcasting Service searched for generative audio stream to be played 24/7 over the period of 365 days. The work is an experimental sonic arrangement that uses several applications to feed and support one another in generating a constant audio stream. A 5 second long recording of the word "now," taken from Celine Dion's 1996 hit "It's All Coming Back To Me Now," forms the core of this sonic arrangement.
→ "Altered State Solution" via Deutschlandradio Kultur
→ "Nothingness, Life, Nothingness" via Deutschlandradio Kultur
→ "~NOWWWWWWWWWWWWWWWWWWWWWWWW~" via Deutschlandradio Kultur
→ 24/7 Stream
CTM 2019 Radio Lab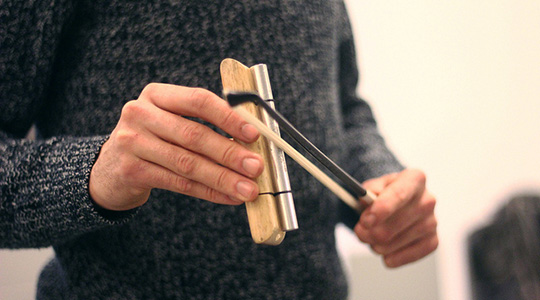 The 2019 edition of the CTM Radio Lab commissioned works from two artists.
With Sogokuru, Aurélie Nyirabikali Lierman researches (modern) forms of animism, and how animistic worldviews have managed to survive in spite of severe oppression through heavy colonization. Herself born in Rwanda but raised in Belgium, Lierman takes direct inspiration from a series of life-changing encounters with her 108-year-old grandfather, one of the last living Rwandan traditional hunters and doctors that has seen the pre-colonial country of his childhood pass through two colonisation events (German and Belgian), the 1950s revolution for independence, the genocide and post-war massacres of the 90s, and the country's present-day turmoil.
"Persistence in Mexico, as in other parts of the world, or rather, throughout the world, today, is not a choice or a possibility: it is a condition to be able to survive, to be able to imagine a different future ... contributing substantially to critical thinking and resistance throughout the world"; writes Mexican sound artist Israel Martínez. With Love and Rage, the artist proposes a tribute to the persistence of resistance via a series of powerful, intimate performances that give "a very strong sonic statement on political activism in Mexico, resonating with many forms of persistence around the world" (Marcus Gammel, Deutschlandfunk Kultur).
→ Listen to Love and Rage via Deutschlandradio Kultur
→ Listen to Sogokuru via Deutschlandradio Kultur
CTM 2018 Radio Lab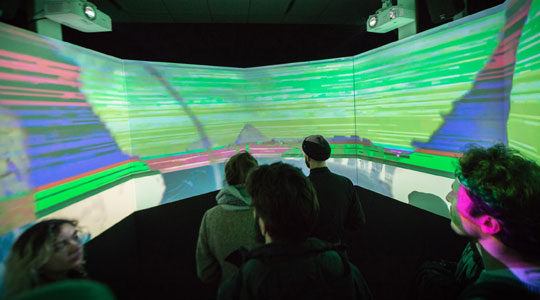 The 2018 radio lab winner, Ahmed El Ghazoly aka ZULI, is a multi-instrumentalist, producer, and sound artist from Cairo. He is co-founder of Kairo is Koming (KIK), a collective of six artists that played an important role in the rise of the city's underground electronic music scene, and has published two releases via Lee Gamble's UIQ label.
In The Magma, El Ghazoly composed diverse vignettes of life in Cairo, a grossly overpopulated city suffering political unrest over many years. Having steadily recorded his surroundings over many years, ZULI combined conversations held for example with taxi drivers, merchants, commuters at the railway station or metro, with his own original music compositions. At CTM 2018, festivalgoers were able to enter into a circle of screens projecting 360 videos shot on location, immersing themselves into the city's turbulent environment.
CTM 2017 Radio Lab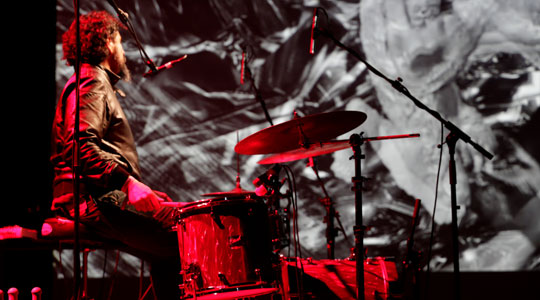 CTM 2017 Fear Anger Love examined the unhinging and emancipatory potential of resonant (musical) emotion to recurrently question and challenge the status quo. This year's Radio Lab again offered winning projects a 2-week residency through support from the SoCCoS - the Sound of Culture, the Culture of Sound network and the Creative Europe Programme of the European Union.
The Death of the Anthropocene by Mexican artist Julian Bonequi imagined encounters with mysterious mutants, composite human-robot-animals, aliens… all met with aggression, shock and disbelief as they paint grim pictures of the future of humanity. The conversations, animated with narration, incidental sounds and specially composed musical extracts, were accompanied by Bonequi's own 3D animation.
→ Listen via Deutschlandradio Kultur
The Death of the Anthropocene by Julian Bonequi from Audition Records on Vimeo.
In 2014, Rima Najdi performed Madame Bomba: The TNT project in her hometown of Beirut to open a conversation about anxiety and fear caused by pervasive violence everywhere she wore a fake cartoon TNT bomb while roaming the streets. Taking off from this action, Happy New Fear blends experimental music and sound sourced in Beirut by Kathy Alberici, visual projections by Ana Nieves Moya, and live narration by Najdi as it follows Madame Bomba and her search for her lover in the city, a stranger who exists in the collective consciousness and of whom everyone is afraid of.
CTM 2016 Radio Lab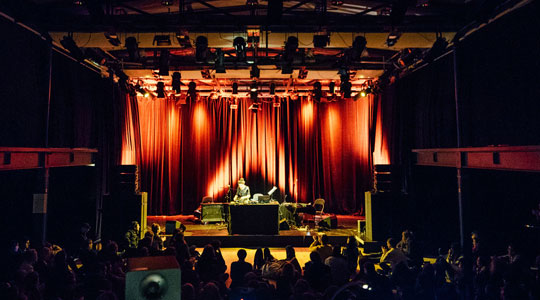 CTM 2016 New Geographies examined today's rapidly collapsing borders and emerging new hybrid topographies, as well as the tensions and essentialist backlashes that arise as a response to these changes. This year's Radio Lab notably offered winning projects a 2-week residency through support from the SoCCoS - the Sound of Culture, the Culture of Sound network and the Creative Europe Programme of the European Union.
With her proposed project, All Hail Mother Internet, Deena Abdelwahed asked "How would I have ended up without having access to internet when I was a teenager?" as a starting point to explore frustrations about feeling fixed by the constraints of a predefined culture, place, identity, and the strategies employed to tackle them.
→ Listen via Deutschlandradio Kultur
GAD Technologies is a project by Marija Bozinovska Jones aka MBJ Wetware, who proposed a collaboration with J.G. Biberkopf. As a verb, gad is defined as "to move from one location to another in an apparently random and frivolous manner". It is also an abbreviation for General Anxiety Disorder. Floating in a virtual realm where cultural markers, gender, position and race are symbolic and arbitrary, and where subjectivity becomes divorced from the constraints of locality, GAD Technologies intended to add to existing geopolitical complexities and representations.
CTM 2015 Radio Lab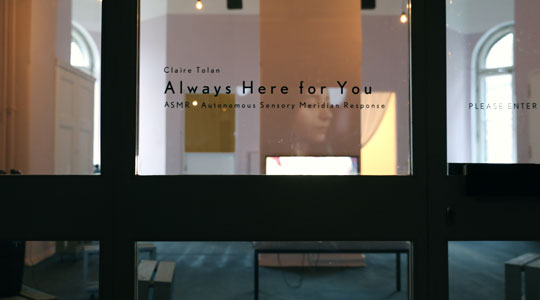 In 2015, the CTM Radio Lab explored the CTM 2015 Festival theme: Un Tune – Exploring Sonic Affect.
The first of two winning projects, titled Always Here for you: ASMR - Autonomous Sensory Meridian Response, was proposed by Berlin-based American Claire Tolan, a young artist and programmer exploring human-computer interaction, online communities (intimacy, privacy), and information structures and theory. Tolan's work premiered as an installation during CTM 2015.
→ Listen via Deutschlandradio Kultur
The second Radio Lab project, In the Darkness of the World, took shape as an experimental radio play performed through a multichannel setup at HAU2. Artist Sol Rezza's work pulled the hydrophone away from its primarily scientific usage into the realm of storytelling, in order to recount Jules Verne's 20,000 Leagues Under the Sea through sound.
CTM 2014 Radio Lab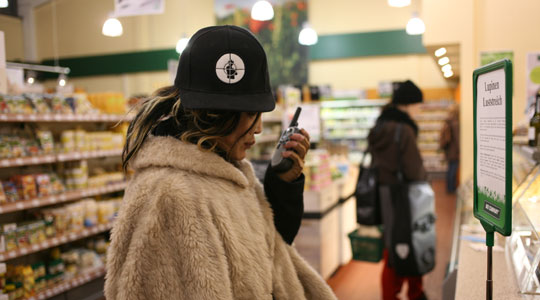 For its first year, the CTM 2014 Radio Lab supported two winning projects within its 15th anniversary Dis Continuity theme, which focused on hidden connections between past and present musical experimentation by fostering dialogue between musical pioneers whose ideas and discoveries continue to influence how we create and experience music today, and a rising young generation of artists.
Walk That Sound by Lukatoyboy used the commonplace yet often forgotten walkie-talkie to create a moving urban sound portrait based around Kottbusser Tor in Berlin-Kreuzberg.
→ Listen to via sonosphere.org
∏-node was an experimental platform for hybrid Web/FM radiophonic composition. As a multi-dimensional radio infrastructure platform, ∏-node explored the narrative, participative, and imaginary possibilities of radio through the use of both historic and new, digital technologies.
Facts