Festival 2020
Exhibition
Bergama Stereo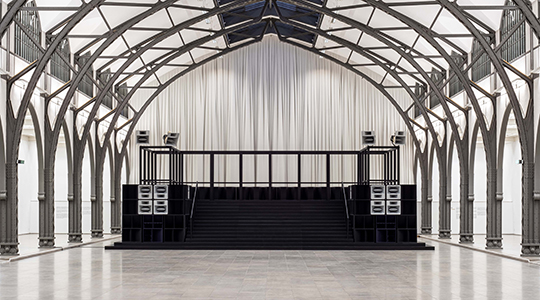 With "Bergama Stereo," Istanbul-based artist and musician Cevdet Erek uses the sonic to explore the lasting architectural legacy of the Pergamon Altar. A special CTM 2020 collaboration takes place at Hamburger Bahnhof to highlight the ongoing installation. The Pergamon Altar was originally constructed in the second century BC, and restored in 1901 on Berlin's Museum Island after being transported from Turkey in fragments. Erek's installation considers the forms, functions, and interpretations of the Altar via a 34-channel composition. On January 27th, the piece will be accompanied by a performance by the trio Contagious, who have been invited to explore the themes and structural aspects of the installation as part of an ongoing project by Freunde Guter Musik.
"Bergama Stereo" references the Turkish name for the ancient city of Pergamon (as well as the contemporary city and district in Izmir) and the ancient Greek word "stereos," meaning "solid." It also gestures towards natural hearing processes and audio playback, in which stereo sound is produced by two symmetrically placed speakers. In "Bergama Stereo," the symmetrical architecture of the Altar and its two wings are hinted at, via a reduced scale of roughly 1:2. The Pergamon Altar's famous frieze of the giants and gods is reinterpreted through the multi-channel composition, allowing sound to take precedence, assuming the role that visual elements play in the original.
Erek's acoustic frieze reimagines the original depiction, drawing on developments in electronic music and club culture over the last few decades, as well as on the histories of the davul (a Middle-Eastern bass drum) and the music of Bergama.
Following the first presentation of the work in Bochum during the 2019 Ruhrtriennale, "Bergama Stereo" is now on view in Berlin's Hamburger Bahnhof as part of the series "Works of Music by Visual Artists," an ongoing collaboration between Freunde Guter Musik Berlin e. V. and Nationalgalerie – Staatliche Museen zu Berlin.
On 27 January, the Hamburger Bahnhof welcomes a performance from Contagious, a trio comprised of Andrea Neumann (inside piano, electronics), Sabine Ercklentz (trumpet, electronics), and Mieko Suzuki (turntable, electronics). Exploring the intersections between club-oriented music on the one hand and "autonomous" experimental music on the other, Contagious open up new aesthetic spaces, as heard on their eponymous release on Morphine Records. Their concert takes place as part of a concert series created by Freunde Guter Musik in collaboration with Hamburger Bahnhof, which utilises the themes and structural aspects of the architecture. Musicians have been invited to relate to characteristics of the installation such as symmetry, balance, contradiction, as well as the content-related aspects of the work such as history, ritual, power, struggle, conflict, expulsion, and migration.
---
A coproduction by Freunde Guter Musik Berlin e. V., Nationalgalerie im Hamburger Bahnhof – Museum für Gegenwart – Berlin, Staatliche Museen zu Berlin, and Ruhrtriennale. Funded by the German Federal Cultural Foundation, with support by the SAHA Association.
Facts
Details
Installation runs: 19.10.2019 – 08.03.2020
Concert by Contagious: 27.1.2020 | 20:00
Venue: Hamburger Bahnhof, Invalidenstraße 50-51, 10557 Berlin
Ticket (installation): 8 € / 4 € reduced
Ticket (concert by Contagious): 14 € / 10 € reduced, available at the door only.
Installation and concert are included in CTM Gold and Connect Gold Passes